The use of a VPN has become an integral part of online life for many people, and its benefits are plentiful.
As well as offering online anonymity, it can also offer a less-restricted version of the Internet awash with content that wasn't accessible before.
What Is a VPN?
A VPN is an abbreviated term for Virtual Private Network, and it allows users to simulate being in one location while being in another.
For example, those connecting to the Internet from the United Kingdom can browse the Internet as if they were visiting from the USA.
Although there aren't any dedicated VPN services for affiliates, there are several platforms that are among the best VPN service provers available.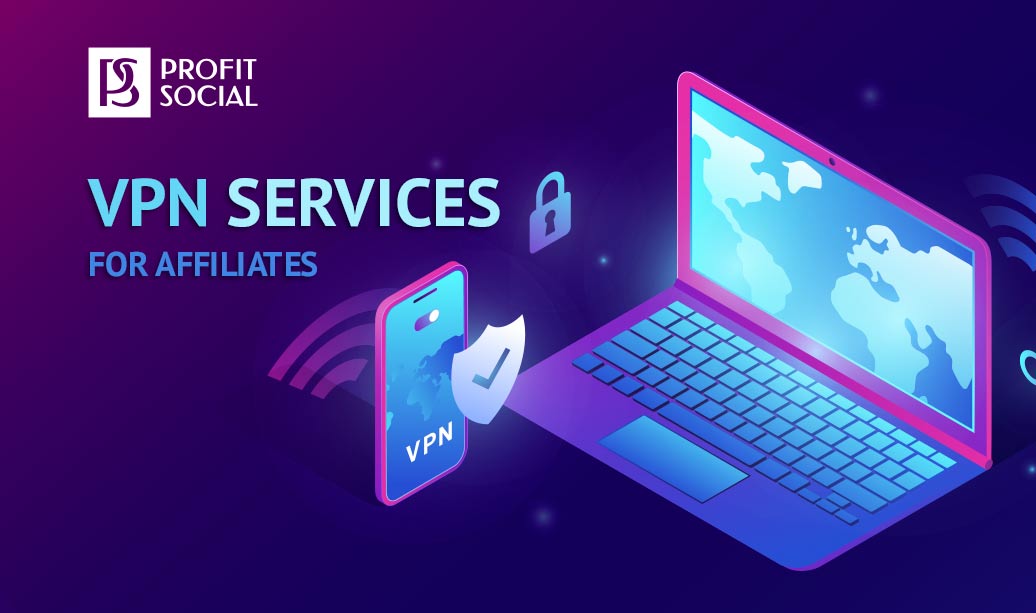 Why Should Affiliates Use a VPN?
Although there are many uses for Virtual Private Networks, some may wonder as to why VPN services for affiliates are important.
Research can be an important role of any affiliate marketing campaign and the use of a VPN ensures that all avenues can be explored when it comes to ascertaining what services and products are popular in different destinations around the world.
What's the Best VPN to Use?
Knowing the benefits a VPN can offer, those looking to make reaction online will be keen to know what's the best VPN to use.
There are many VPN providers available and many of them do a fabulous job of maintaining privacy and allowing access to more information online.
As such, the best VPN service will depend on your preferences, so it can be worth carrying out a VPN service provider comparison to ensure that the service you're considering meets your requirements.
The following is an overview of some of the best VPN service providers for affiliates that all have their own use and functionality depending on what affiliate marketers are looking to achieve.
1. VyperVPN
If you're using a VPN for the first time, the VyperVPN could be a worthwhile consideration. VyperVPN has been famed for its brilliant customer service and abundance of features available to users, which includes a profitable affiliate scheme of its own, meaning that an additional sale funnel could be added to your online marketing efforts.
2. NordVPN
Those searching for a VPN that's both reputable and reliable then NordVPN is a platform worth checking out.
NordVPN has a sole focus on proving complete online freedom and is a mixture of strong values and innovative features.
These features include users being able to choose a static IP address, as well as the double-encryption of online connection that allows for complete online privacy and freedom.
3. Express VPN
Express VPN is another good platform for those learning how to use such a service for the first time.
As well as allowing users to connect to several VPN proxies, the platform allows users to access an easy-to-use platform that offers connections all over the world, meaning that viewing restricted content is a thing of the past.
4. Astrill VPN
Astrill VPN may not have the same popularity as other VPNs, but this doesn't mean that it's not worth investigating. Not only has Astrill VPN been met with favourable reviews, but it also has a series of other feature that could be beneficial to affiliates.
This includes the securing of Wi-Fi hotspots as well as additional security in the form of email instant messages, ensuring that personal details such as passwords are never leaked.
5. Hidemyass
Despite the risqué name, Hidemyass has been a favourite with affiliates for some years and has several features that set it apart from the competition.
For example, the VPN can be used on two different devices at any one time, and users can connect to over 770 different servers around 190 countries.
6. GeoEdge
Those that are a little more experienced with VPNs may want to use a service that offers some additional services tailored for marketing professionals.
GeoEdge has been cited as one of the premier providers of VPN services and offers a slew of features that allow for ad verification and transparency solutions for a selection of different ecosystems.
The VPN provider also goes the extra mile by ensuring that all websites and apps interacted with are reputable.
There are also other features that include Ad Quality Monitoring and Advanced Campaign Targeting Features.
7. PrivateVPN
PrivateVPN is another VPN provider that puts a sole focus on customer service as well as offering users a service that can always be relied on.
Some of the problems that users may find with some VPN providers if the slow connectivity to different proxies.
This is never the case with PrivateVPN, as it ensures that connections are just as fast as if you were connecting to the Internet without the use of a VPN.
There are also a series of tutorials available to ensure that affiliate marketers can get the best use from PrivateVPN.
8. HideIPVPN
There's no denying that there are a lot of VPN services available, which makes it difficult for some of the more reliable to get noticed.
HideIPVPN may not have the same recognition as other VPN services providers, but it does have some feature that is worthy of mentioning.
These features include the SmartDNS and VPN which allows affiliate marketers to choose the category that's used the most.
Users can also be confident of a robust VPN connection which is fully encrypted at all time, allowing for complete security and anonymity online.
9. PureVPN
Those that still are unsure of how VPNs work will be looking for something that they have confidence in and PureVPN has received testimonials from a series of big names such as the CNET and Mashable.
Users can be confident of a 99.99% uptime and unlimited bandwidth making it the ideal platform for those that need some additional peace-of-mind when it comes to getting things done.
It also has an easy application process meaning that new users can get started sooner rather than later.
10. ZenMate
The German-based Zenmate is a VPN provider that has a user-friendly interface and easy to use software that allows for a completely secure connection.
Users of ZenMate can also enjoy unlimited bandwidth and premium customer service as well as some other handy feature including tracking protection and malware blocking.
We hope you like our review. You choose which one to use.
In this article