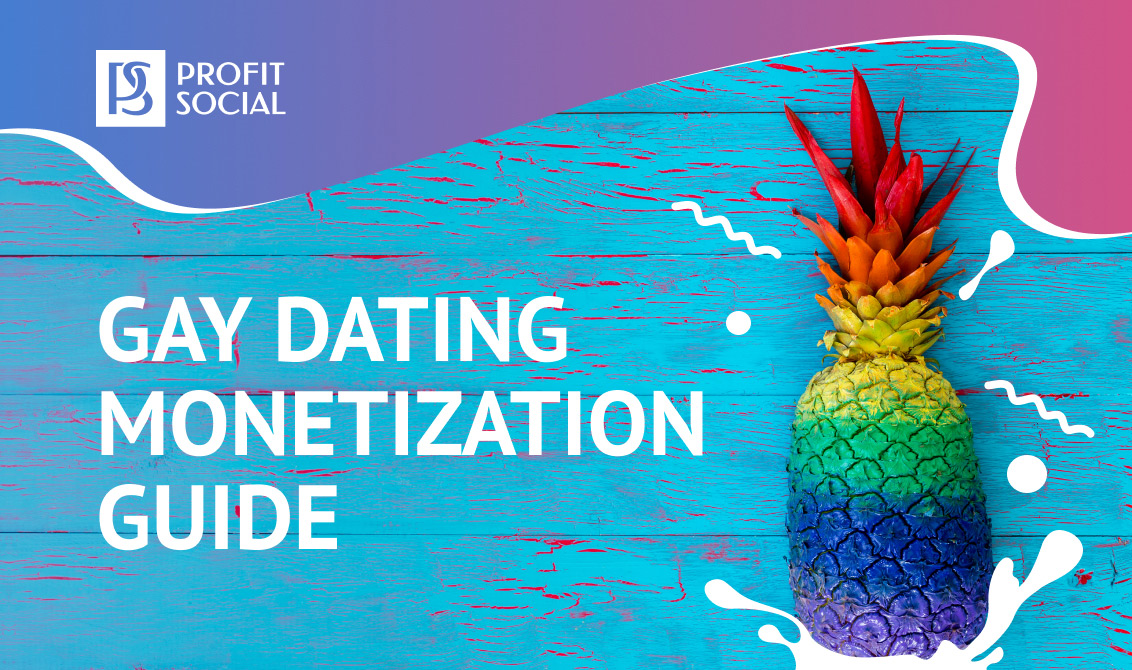 Brace yourself for the guide on trending and top converting dating niche, covering gay dating monetization and ways to create highly engaging ad campaigns.
Fifty years ago, Stonewall Riots took place in the US, giving start to what we know today as Pride Month. The evolution of gay dating has gone a long road from ads in newspapers and magazines to dating sites and mobile apps. Today, niche dating is growing and gaining momentum in terms of diversity, revenue, and volume of traffic. Therefore, the growth dynamics of new LGBTQ+ users in online dating applications are more than 50%, which is considerably higher than casual dating indicators. The gay dating niche, for instance, not only allows targeting a specific audience but also driving traffic from Tier 1 countries. In addition to generally positive performance, working with gay dating offers has yet another peculiarity. According to the research carried out by Pew Research Center in the United States, gay users tend to use dating websites and apps twice as rapidly as straight users since this option is generally selected and preferred. Unlike hetero dating apps and platforms, LGBTQ+ platform users significantly prioritize the search for a partner and tend to be more loyal and motivated. Therefore, the niche provides more extensive possibilities and opportunities for marketers to run profitable ad campaigns. 
Gay Dating Market
Apart from the indisputable growth of the online dating market in general, gay dating services keep evolving and adapting to the changing environment, tastes, and needs of users. When it comes to personalized search, apps have never provided such a wide range of options as they do today. For instance, users can choose country-based, neighborhood-based, or interest-based gay dating apps. According to the annual study called Singles in America, around 70% of gay couples meet online. It is fair to say that niche-specific dating services are more convenient to users, consequently resulting in a high level of demand. With the online dating market witnessing continuous growth, the average revenue per user is predicted to reach $8.95 in 2020. It means that the gay dating market potential has no limits, and its highly unlikely that the growth drivers, along with future trends, will negatively impact it. On the contrary, it is expected to attract an even more dedicated user base with both freemium and subscription models available. 
How to Monetize Gay Dating Offers
Since modern romance is all about online dating, it became incredibly efficient not only for gay users but also for affiliate marketers. Besides, the growing popularity of dating apps has led to an increased variety of gay traffic sources. 
Today, gay dating apps and websites are not only about dating. They tend to entail the features of social platforms. And since subscription models are still a thing, year-long subscriptions remain the most popular options for users, apart from freemium ones. Given that gay dating offers allow affiliates to increase their EPC when compared to other niches and verticals, the scalability remains unquestionable.  
Depending on the type of offer you are planning to promote, there are several handy old-fashioned approaches to driving traffic. When driving traffic from social networks to the gay offers of your choice, direct messages, profile or story views, likes, and friend requests still work like a charm. In this case, there is a need to create catchy profiles, which, clearly, is time-consuming and entails certain risks like occasional bans. Such traffic sources as Tinder and Snapchat require a bit more creativity and, consequently, manual work. 
Another option is using targeted email lists if this type of traffic is acceptable. Curiously enough, media buying can also use some creativity on your side. It is about time you found out that there are specific ad networks. For instance, gay ad networks focusing exclusively on this niche. Besides, there are multiple niche-specific traffic sources like gay chats, gay social networks, hosted galleries, LGBTQ+ news portals, online magazines, LGBTQ+ streaming platforms, sites focused on gay nutrition, gay video games, and online film festivals. Now, isn't that a treat? With Pride gaining momentum and going online due to the COVID-19 outbreak, gay traffic volumes will significantly increase. It can only mean one thing – better conversions.
With all the untapped potential of the niche, push ads remain trendy and cost-effective. In this case, gay-themed emojis and LGBTQ+ inclusive content will do the trick. A friendly reminder, do not forget to target users by browser language. Even though English seems to be a safe option because of its general-purpose use, the user's native language is most likely to drive attention.
Love goes far beyond being an emotion. It is also an industry and business. With an increasing amount of hot and performing gay dating offers, affiliates have all the tools and opportunities required for running successful ad campaigns targeted to sites specializing in or focusing on this niche. If you have gay traffic, this is the right time to put it to good use and monetize it. Promote gay dating offers and do it with pride!
ProfitSocial – Smartlink platform from direct advertiser has more than 1500 offers for 150+ geos. The dating vertical and its respective niches: Gay, BBW, Ebony, Asian, Milf, and Mature.
This summer – is a perfect time for experiment with gay-dating traffic, because ProfitSocial has special rates for gay offers!
Check out our new rates for gay offers:
Offers        web/mob
USA       $3,50/$2,70
AUS       $6,00/$5,50
FRA       $4,00/$3,50
ESP       $2,50/$2,50
DEU       $4,00/$4,00
ProfitSocial smartlink makes it easy to monetize the entire volume of traffic with maximum eCPM rates.
In this article