When embarking on affiliate marketing, there are many options available. Some may make money with shareable links, whereas others may be making an income via an Amazon store.
One of the most frequent kinds of marketing has been labelled 'interruption marketing.'
When browsing forums online, those new to affiliate marketing may also see it referred to as pop marketing.
It is called pop marketing because of the nature of the ads that are being used.
There are two forms of pop advertising to consider, pop-up and pop-under ads.
As the name suggests, pop-up ads will display over the top of webpages, which is where the interruption marketing stems from.
Pop-under ads load behind the webpage, so are only visible once the viewer exits the website. Sometimes, these can be also labelled as interruption marketing.
This is an unfair label as pop-under ads aren't as intrusive as their pop-up counterparts.
Although the use of pop-under ads won't be for everyone, there are some benefits that make it the ideal money maker for those new to the world of affiliate advertising.
For those looking to advertise, the use of pop-under traffic may not be the most profitable avenue to take, but when partnered with other approaches can yield some results that may not have been possible otherwise.
In some instance, businesses can find that there can be as much as a 300% rise in ROI in relation to pop-under ads, so it's certainly worth considering at the very least.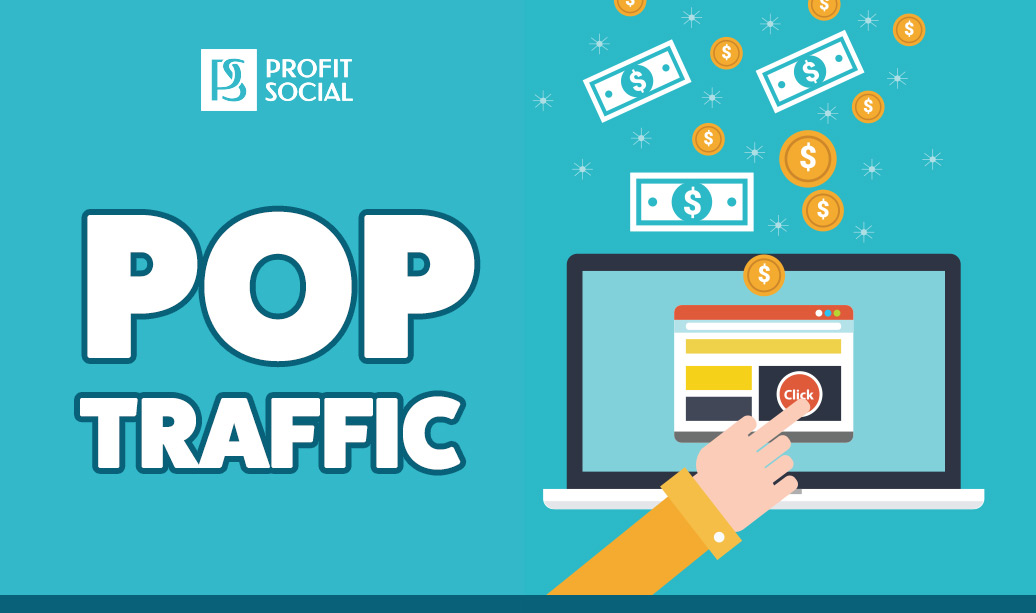 What Can Pop Under Advertising Be Used For?
There will be times when some assume pop marketing isn't for them.
However, the fact of the matter is that these two categories can overlap a lot within an online environment, so it's important not to be dismissive in relation to pop advertising.
Win Pop-Under Traffic with Attractive Landing Pages
Not everyone that visits a website will be interested in what information is on offer, but if you're not having any success at all, then it could be due to the landing page being used.
Landing pages can make all the difference as to whether a user carried on to your website or navigates away.
The approach used will depend on what you're looking to promote. For example, those offering discounted clothes may want to include a voucher, whereas a streaming service may offer a free trial.
Even an e-book can be an alluring prospect. Ultimately, it's about offering value in some way, which could be in the form of a video, content or anything else that could potentially appeal to online users.
What Are the Advantages of Pop Traffic?
Regardless of whether you're looking to promote a product or service or looking to make money from referrals, it's good to know what advantages are available before starting any campaigns or landing pages.
• Minimum Deposits
• Cheaper Traffic
• Straightforward
• Get Started Straight Away
The benefits of pop traffic also depend on the research being carried out.
For example, if you're using the same method as others, but you're not finding success where they are, then it could be due to the platform you're using or the product you're trying to promote.
The use of pop traffic can also be more effective with time, as advertisers simply need to concentrate on the landing pages and not the ads themselves.
As well as being able to advertise to desktop users, the use of pop traffic has also gained traction with mobile advertisers.
The Disadvantages of Pop Traffic
The cheap entry point and ease-of-use mean that the use of pop advertising is now more popular than ever.
While it's great that new technology is being put to good use, it's does mean that there can be disadvantages when employing the use of pop traffic.
This shouldn't dissuade you from using pop traffic from marketing campaigns, but it's a good idea to look at what disadvantages there could be so the campaign can be tailored accordingly.
One of the biggest disadvantages is competitive bidding for the same advertising space. Although there is essentially 'enough to go around' when it comes to creating ads, there will be times when fierce competition means you will be paying more in relation to ads.
How much this is can depend on several factors, so while it may not be costly, it's certainly something worth considering when putting a marketing campaign together.
Where to Start with Pop-Up Networks and Pop-Under Traffic?
There's nothing in place that dictates that pop-up traffic is better than pop-under or vice versa, it's simply about finding an approach that works for the business.
The success of the ads can also depend on what website they're being use on.
As well as having their own approach to advertising, those looking to benefit from pop-up networks and pop-under traffic, every advertiser will have their own preferences in relations to the platform being used.
The following is an overview of the options available in relation to pop traffic networks.
• RevenueHIts
• AdCash
• Bidvertiser
Despite pop traffic not being as attractive as some other forms of media buying, it still has part to play when it comes to uniting businesses and customers, and in some instances can be more successful then more conventional forms of advertising.
In this article