When you think about affiliate marketing, WordPress is a product that pops up regularly, and for good reason.
Not only is WordPress ideal for creating the perfect bespoke web presence, but it also allows the website to be updated with a few clicks.
However, there are other tasks that while easy to carry out, can be somewhat time-consuming. This is when WordPress plugins make themselves known.
As well as being able to aid affiliate marketers in reaching their chosen demographic with ease, WordPress plugins can also help net affiliate marketers a small profit should they decide to promote the products to other users.
The world of WordPress can offer everything an affiliate marketer needs, but it's understandable that those approaching the sector for the first time can find it a little overwhelming.
There can be many factors to consider when setting up an affiliate site depending on the product or service you're hoping to promote.
WordPress affiliate programs and plugins need to work in harmony, so it's always worth checking what features are available before getting started.
The following is an overview of some of the more popular WordPress plugins, as well as some WordPress-themed affiliate programs that could help increase your passive income.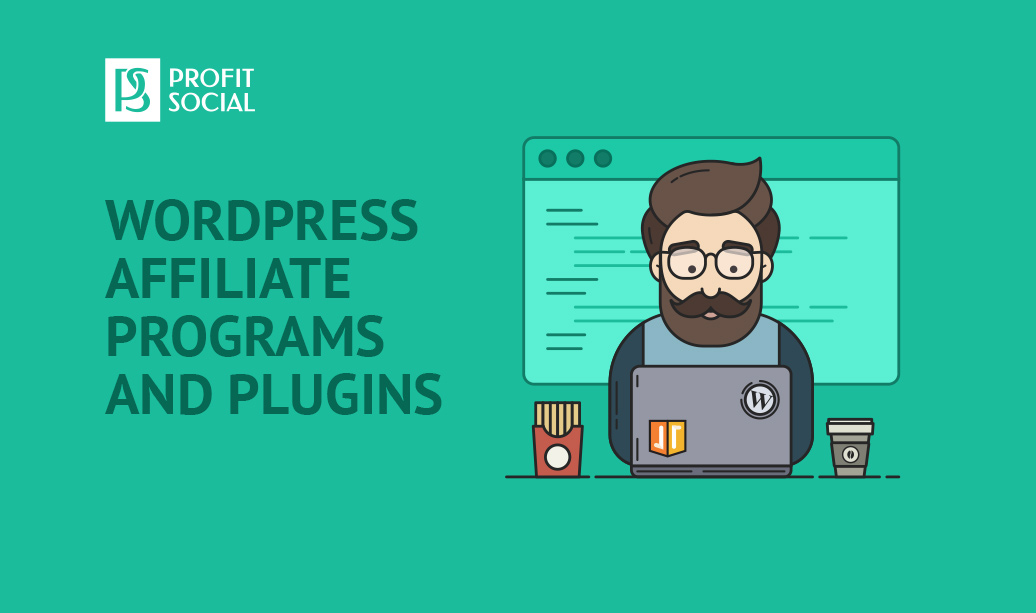 AffiliateWP: A Modular WP Affiliate Plugin
AffiliateWP allows users to tailor their commission percentages and cookie duration with ease, and it can be even integrated into other platforms such as Easy Digital Downloads and WooCommerce.
There's also a great mixture of free and premium tools that allows users to add modules to their WordPress setup to better streamline the processes in place, including leader boards and affiliate area shortcodes.
A great plugin that's easy to use but a powerhouse behind the scenes of affiliate marketing.
AffiliatesManager: Ideal for Those Searching for Free Affiliate Plugins for WordPress
When first stepping into the world of affiliate marketing, it's understandable that the funds needed for some WordPress affiliate plugins aren't always available.
However, some can be dissuaded from using free plugins because they feel they're a little lackluster when compared to premium offerings.
AffiliatesManager is a free WordPress affiliate plugin that's awash with features you'd only expect to find within a premium plugin.
As well as being to track ad impressions, users can also make mass payments via PayPal and Stripe and even create banner ads easily.
What's more, the plugin is translation-ready, making it the ideal plugin for those looking to set their sights on a global audience.
AffiliatesManager is a great stepping stone for those making their first moves in the world of affiliate marketing.
Ultimate Affiliate Pro: A Brilliant Premium WordPress Plugin
Those who are investing in WordPress affiliate plugins will want to ensure that they're getting value for money.is a premium tool that brings together everything the modern-day affiliate marketer needs.
Ultimate Affiliate Pro is the top-selling WordPress affiliate plugin of all time, and it's not hard to see why.
Users can generate coupons, QR codes, affiliate links and pretty much anything that helps get the word out to the masses.
Payments can be made via Stripe and PayPal and even integrate with third-party platforms such as WooCommerce for the ultimate seamless experience.
AdSanity: A Versatile Option Among Affiliate Plugins for WordPress
For those who work a lot with a series of different ads, Adsanity could be the plugin you're looking for.
The AdSanity plugin not only allows affiliate marketers to insert banners, graphics, audio and video, it also allows users to manage their campaign via the WordPress dashboard.
The framework used with AdSanity is nice and light, so there are no irritating waiting times, and there is even a selection of extensions to further the functionality of the plugin.
There's also the option to obtain reports that allows you to see how each ad performed, allowing you to adjust your ads if needed.
Affiliate Royale: A Regal WordPress Referral Plugin
Given the name of this plugin, many users will be expecting a lot. Fortunately, that's exactly what you get with Affiliate Royale.
This plugin is designed for those that offer affiliate opportunities to other users. A dashboard delivers real-time information in relation to performance and statistics.
It also includes a shopping cart integration allows users to keep track of recurring payments from platforms such as Cart66 and PayPal
The affiliates you're working with can use the same platform to log in to view their own stats, as the dashboard is integrated into the affiliate website itself.
Make Money from WordPress Affiliate Programs
The reason why WordPress is so popular is that users can create almost any website, be it's a dating website or a comparison site.
Those who have used certain plugins and themes may want to recommend products to others. Affiliate marketers will be happy to know that is possible, and there's a commission to be made along the way
For example, themeilse is a platform that offers a selection of WordPress plugins and themes, being recognised for Revive Old Post and the WP Product Review Plugin.
Whatever you decide to promote, affiliates marketers can expect to earn up to 55% in commission.
Another popular platform for affiliate marketers looking to make money from WordPress themes and plugins is GravityForms.
Again, there is a vast selection of plugins and themes that can earn marketers up to 20% commission.
Make Money with Products Associated with WordPress
As well as receiving a commission in relation to WordPress plugins and themes, online marketers can also turn a tidy profit from selling other products needed for the WordPress setup.
To make the most of affiliate marketing with WordPress, you need to use a hosting service. This allows those offering plugins and themes to add web hosting to their services for the complete WordPress solution.
SiteGround is one such company that offers simple but effective hosting for websites, as well as WordPress CMS.
There's also plenty of incentives to keep you motivated. Although one to five sales will make marketers £30 a sale, those who increase their turnover to between six and ten will earn £50 a sale.
This figure continues to increase as you refer more customers to the SiteGround platform.
WordPress and affiliate marketers work well together, regardless of the sector, you operate in. Those looking to keep track of affiliate marketers can do so easily, while those keen to increase their bottom line have plenty of avenues to explore.
In this article