There are many different types of ads out there.
We see dozens if not hundreds of ads online each day and in many cases we don't even realise that some are adverts.
With such a big market – the online advertising industry is expected to reach over $330bn spend this year – it makes sense that there are many ad networks available.
In this review, we are going to look at one – Popcash.
They specialise in popunder ads so before we get into the details of this network we first need to find out what a popunder ad actually is.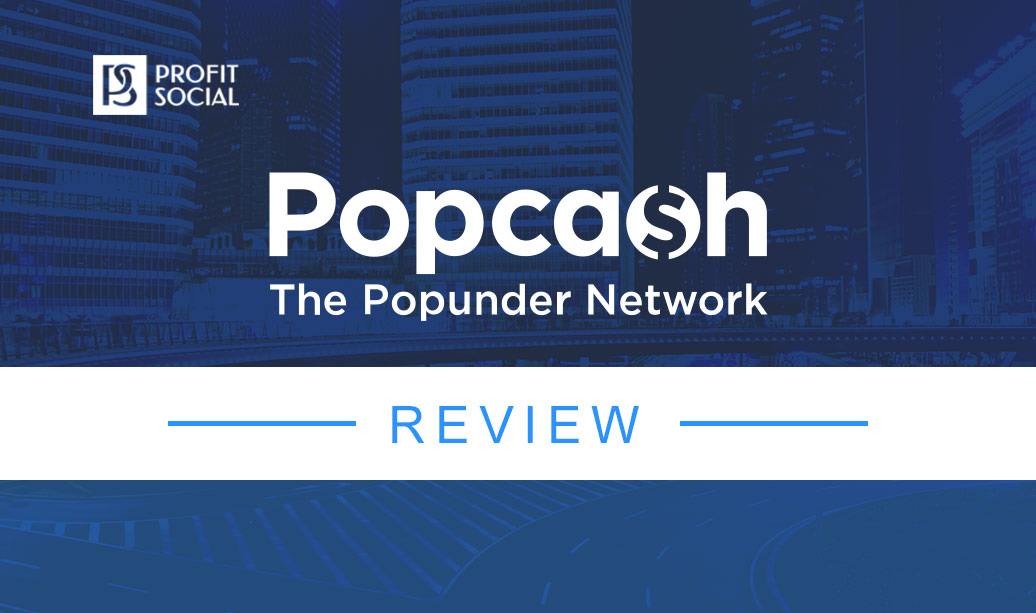 What are popunder ads?
So, you have probably heard and seen a pop up ad, right?
We all know what these are. They appear in front of the content we are viewing. Some people find them intrusive and annoying. In many cases they actually have the opposite effect of what the advertiser wants which is for the person to click on the ad.
This is why popunders are often more effective. Popunder ads don't pop up over the top of the content, they appear behind the content. In some ways they are like a remarketing tool because you aren't going to see the ad right away it will most likely be after you have close the main browser window that you will see the popunder displayed.
What is popcash.net?
With your new knowledge of what a popunder ad is, we now need to look at a popunder network called Popcash.
You might have heard of these guys or maybe you haven't?! They are pretty big and are one of the biggest in this niche. Popcash.net has been running since 2012 and is dedicated to popunder ads and traffic.
They get over 850 million monthly visitors and currently have around 50,000 active publishers where your ads can be displayed. They certainly aren't a small fish in the market but what are the advantages of using this popunder ad network?
Benefits of using Popcash
Popcash gets a lot of traffic and they also have many publishers who can host ads.
#1 Worldwide traffic
The big advantage of popcash.net is that they receive traffic from around the world.
This includes Tier 1 countries that are the most lucrative. For example, the USA, UK, Australia, Germany and France would all be classified as Tier 1. Even Tier 2 locations such as Argentina, Brazil, India, Japan and Singapore can bring in decent revenue.
As an advertiser, you can have your campaign approved in an hour on a weekday too while publishers can benefit from $10 minimum withdrawal which is really low compared to many other ad networks out there.
#2 Easy to use system
One thing that puts many newbies off when they sign up to an ad network regardless of whether it is a popunder network or just a general network is hard to use interface.
Luckily Popcash has a very easy to use UI. Even if you have never come across an ad network before and you are still learning the ropes then you will be able to use popcash.net.
It is very intuitive and setting up a campaign is straightforward. Their ad code can be integrated with any website and they offer WordPress and Blogger plugins as well.
#3 Many payment options
There are certain popunder ad networks and general networks that are very restrictive in what payment options they have.
Popcash is different. They offer 8+ payment processors including all the main ones such as PayPal, Wire Transfer and Skrill.
So when it comes to getting paid you have a wide variety of options to choose from that will suit you.
Disadvantages of Popcash
Not everything about Popcash is positive and we need to make you aware of a couple of drawbacks
#1 Statistics can be limited
Ensuring that your campaigns are effective and optimised properly means that you will need to study a lot of statistics.
Compared to some other ad networks that are out there, Popcash don't provide a whole lot of statistics. You can get good information on your campaigns and how your ads are performing however it is a bit limited.
That being said, if you are new to the game and only need the straightforward information to see how your campaigns are performing then you will be fine. It is only really with the more in-depth statistics that they are currently lacking.
#2 Only one type of ad is supported
This is pretty self-explanatory. After all, Popcash is marketed as a popunder ad network.
It isn't a drawback rather it is just something to be wary of. If you want to use several types of ads in your campaigns then Popcash isn't going to be for you however if you want to take advantage of this popular ad format then these are the guys to use.
Our Popcash review
Popcash.net is one of the largest and most well-known popunder ad networks.
With a huge amount of traffic and Tier 1 countries, it represents a great opportunity for advertisers to get valuable traffic and for publishers to make money.
By using Popcash you will get:
• Worldwide traffic with many lucrative countries
• Easy to use system especially for beginners
• Great support system if you run into any problems
• Many types of payment options supported
It has a couple of drawbacks but overall Popcash is an important network that should be looked into by anyone who wants to use popunder ads.
In this article