When it comes to exploring different affiliate marketing strategies, a diverse and ever-evolving market of Asia presents various challenges and opportunities. A large population of the APAC region is influenced by the consumerist culture that, in turn, shapes consumer behavior and the economy of the Asian market.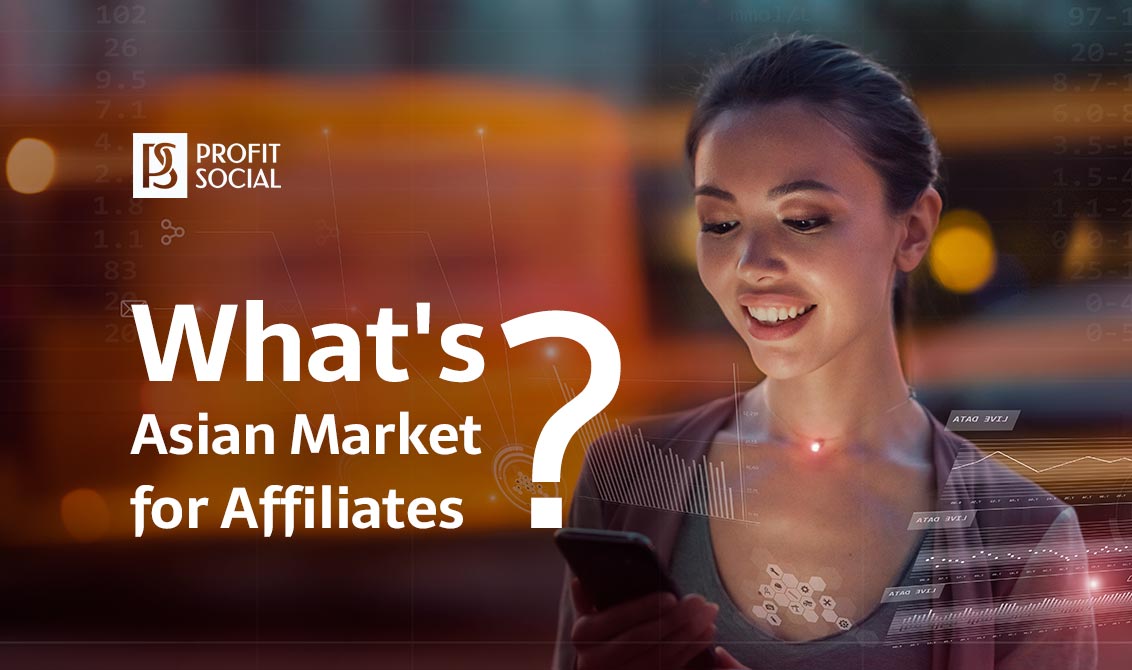 Asian Market Overview
The dynamic nature of Asian market captured international attention a long time ago. Starting with the allocation of foreign assets and mass production of high-tech products, the APAC region placed itself on the world investment map.
Today, the most promising markets of China, Thailand, India, Japan, Indonesia, and South Korea are also becoming trendsetters in the digital industry. Apart from the huge market potential, the APAC region has a unique ecosystem. Therefore, it is crucial to identify the main differences not only in consumer behavior but also in payment systems, local laws, regulations, and language.
Being one of the most cost-effective performance channels, affiliate marketing has earned its place in the economy of the United States and Europe. Asia, in contrast, is only in the process of owning the affiliate marketing industry the way they own retail.
In the past few years, most of the Asian countries invested heavily in affiliate marketing. Back in 2013, Japanese companies invested around 134.21 billion Japanese yen. The forecasts show that this type of expenditure will keep growing in Japan because of successful conversions via mobile devices. However, affiliate marketing activities within Asia have only recently started to gain momentum, becoming a sufficient condition for long-term economic growth.
With the number of active mobile users constantly growing, Indonesia becomes the third-largest mobile social media market in Asia-Pacific with more than 290 million mobile social network users. As for China, it is still ranked first with more than 1 billion active social media users. In fact, social, search, and e-commerce merge in Asia, simultaneously shifting the focus on customer value. From a global perspective, the largest national economies operating on the e-commerce market are the United States and China. Today, China is still leading the way for APAC growth with its massive traffic sources and advertisers.
APAC Ecommerce Landscape
Entering the Asian market is challenging for foreign companies, especially when affiliate marketing is involved. Even though e-commerce is booming in Asia, it is still a relatively new industry with its unique rules and characteristics. As for affiliate marketing, it has to have its special Asian spin to actually work. Asian brands are mostly careful and observant when dealing with affiliate marketing. However, the commercial model, tracking technologies, and any innovations in the digital marketing industry are easily accepted.
Traffic Sources in China
As the largest market in the region, China cannot be ignored. In fact, 85% of traffic in China belongs to the big three: Baidu, Tencent, and Alibaba Group.
Baidu is the Chinese version of Google. One of the main challenges, in this case, is the Chinese interface. Therefore, to leverage Baidu traffic, you need to use resellers or be a native speaker.
Tencent owns WeChat, which is a messenger, a social media platform, and a payment app. In 2019, Tencent claimed that WeChat had around 1 billion active users daily, making it the 5th most used app worldwide.
In case your company is registered in China, you should be ready to spend a reasonable amount of money on the WeChat traffic. If there is no local registration, the budget will exceed any expectations. Another option to get WeChat traffic is to cooperate with Key Opinion Leaders (KOL). Unfortunately, it is not possible to indicate the budget right away when dealing with KOL.
It mostly depends on your pick from the influencer catalog. Finally, there are familiar standard banners. Naturally, WeChat takes performance marketing seriously, but it is mostly available for companies with the local registration. Otherwise, you can always work with the official resellers.
Alibaba Group is the Chinese version of Amazon. However, you cannot actually buy their traffic, but you can always try out the AliExpress partner program or ask affiliate networks for their offers.
Local DSPs are responsible for the remaining 15% of traffic. The DSPs are usually looking for media buyers and platform users. Moreover, the local DSPs can also be useful if you are interested in buying video traffic from Youku Tudou, for example.
Top Verticals in the Asian Market
As the Asian market matures, more verticals are getting into the game. Currently, the most popular verticals in the APAC region are e-commerce, utilities, gaming, and news apps. Naturally, the main focus of Asian advertisers is on ROI and LTV.
Such companies as Baidu and Cheetah Mobile have their utility products, which guarantee affiliates the opportunity to scale their campaigns with quality traffic. These types of apps are constantly adding features and various functions, that help to keep the demand on a decent level. Besides, many Asian companies are launching ad platforms to actively engage the partners and build their networks.
As for the gaming vertical, Asian companies are keeping their main focus on mobile games. According to Newzoo, the APAC region is responsible for 49% of the global mobile market revenue.
Therefore, Asian companies keep investing in the mobile gaming industry, providing even more opportunities for affiliate marketing to become an integral part of the industry.
Undoubtedly, there is a real demand for e-commerce products within the APAC region. Even though the CPA rates tend to be low in Asia, conversion rates usually make up for it. The quality of traffic and testing is obviously crucial. Moreover, the main factor not depending on the vertical is relations with advertisers. The possibility of successful cooperation with Asian advertisers mostly depends on communication. Unfortunately, if you do not know the language, you will have to find an intermediary able to communicate and constantly connect with advertisers online and offline. In this case, working with affiliate networks will most likely do the trick.
Even though the APAC region is challenging for affiliate marketers, it presents multiple opportunities to learn, explore, and earn. Being a relatively new cost-effective channel in Asia, affiliate marketing is gaining ground. For now, affiliates can get paid only on a CPA basis within the Asian market, which might limit the possibilities of foreign affiliate marketers. However, the trending growth of lucrative verticals and the level of consumer engagement can certainly compensate for the only payment model available.
In this article